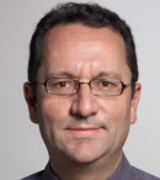 Bachir Taouli MD
PROFESSOR | Radiology
PROFESSOR | Medicine, Hematology and Medical Oncology
Training Areas
Education
MD, Universite D' Alger

Residency, Pediatrics
Universite D' Alger

Residency, Diagnostic Imaging
Paris VI University (France)

Fellowship, Radiology
University of California - San Francisco
Biography
Bachir Taouli, MD, is Associate Professor of Radiology and Medicine in the Body Imaging Section (Department of Radiology) at The Mount Sinai Medical Center. After completing medical school and Radiology Residency in Paris VI University (France) in 2000, he joined UCSF Department of Radiology for a research fellowship and clinical training. He then joined the NYU Department of Radiology where he worked for 6 years and where he developed clinical applications of advanced MRI techniques applied to liver, kidney and prostate diseases, including diffusion and perfusion imaging and spectroscopy. Recently, he joined Mount Sinai Medical Center where he is currently the director of Body MRI in the Department of Radiology. With state of art equipment available at Mount Sinai, advanced MRI techniques will be offered as part of routine studies or in research protocols. These methods are useful for better disease detection and characterization, and for assessment of response to therapy. Dr Taouli is a member of the Radiological Society of North America, International Society of Magnetic Resonance in Medicine, American Roentgen Ray Society, Society of Gastrointestinal Radiologists, European Society of Radiology, American Association for the Study of Liver Diseases, Society of Uroradiology, European Society of Magnetic Resonance in Medicine and Biology, and European Society of Gastrointestinal and Abdominal Radiology. He is an Associate editor for the American Journal of Roentgenology. Dr Taouli is a member of the Annual Meeting Program Committee of the International Society of Magnetic Resonance in Medicine, and Radiological Society of North America Gastrointestinal Radiology Subcommittee. Dr. Taouli authored or co-authored over 60 published peer-reviewed manuscripts and book chapters primarily on body MRI. Dr. Taouli has lectured throughout the world on advanced body MRI techniques.

Click here to view Dr. Taouli's publications

Awards
2011 - 2012
Keynote Lecture
10th International Symposium on High Field MRI

2008 - 2009
Research award
Society of Uroradiology

2007 - 2009
Scholarship Grant
Radiological Society of North America

2004 - 2005
Research Award
Society of Gastrointestinal Radiologists
Research
Assessment of prostate cancer with MRI
MRI is the primary modality used for prostate cancer detection and staging. One of Dr Taouli's research interests is the use of multiparametric MRI to better detect and stage prostate cancer, and assess and predict response to radiation therapy.
Assessment of liver cancer with advanced MRI methods
Primary liver cancer (hepatocellular carcinoma: HCC) can be treated aggressively when diagnosed early, using for example hepatic resection of transplantation. Imaging plays a pivotal role in the detection of hepatocellular carcinoma. MRI is especially attractive as it is radiation free and can be easily repeated in patients with liver disease on a regular basis. One of Dr Taouli's research interests is to characterize liver tumors in terms of aggressiveness, angiogenesis and oxygen delivery through the use of advanced MRI methods.
Non invasive detection of liver fibrosis and cirrhosis with MRI
MRI is a versatile technique, with no radiation exposure, and the possibility of performing multiparametric imaging. One of the interesting applications of MRI is the non invasive detection of liver damage caused by hepatitis and other insults, usually assessed with liver biopsy. Dr Taouli's experience using diffusion and perfusion MRI showed potential usefulness for detection of liver fibrosis and cirrhosis. MR elastography is also an emerging technique that will soon be offered routinely to patients with liver disease at Mount Sinai.
H-Index:
Scopus: 43 (as of 04/05/2018)