Home

/

Paolo Boffetta, MD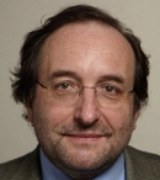 Paolo Boffetta, MD
PROFESSOR Medicine, Hematology and Medical Oncology
PROFESSOR, Oncological Sciences
PROFESSOR Environmental Medicine & Public Health

Dr. Boffetta moved to Mount Sinai School of Medicine in 2010. He is Associate Director for Population Sciences of The Tisch Cancer Institute and Chief of the Division of Cancer Prevention and Control of the Department of Oncological Sciences. He is also the Bluhdorn Professor of International Community Medicine.
Dr. Boffetta's previous employments include Columbia University (New York, NY), the American Cancer Society (New York, NY), the American Cancer Society (New York, NY), the International Agency for Research on Cancer (Lyon, France), and the German Cancer Research Center (Heidelberg, Germany).
Dr. Boffetta is Adjunct Professor at the Harvard School of Public Health (Boston, MA), Vanderbilt University (Nashville, TN), and the Catholic University of Rome (Italy). He is also Affiliate Member of the R. Samuel McLaughlin Centre for Population Health Risk Assessment, University of Ottawa (Ottawa, Canada), and Senior Fellow of the Hellenic Health Foundation (Athens, Greece).
Dr. Boffetta is the author of over 1,100 peer-reviewed publications, mainly in the field of epidemiology of chronic diseases. He has edited 13 books and authored over 60 book chapters. He is associate editor of Annals of Oncology, European Journal of Clinical Investigation, and Frontiers in Cancer Epidemiology, and is a member for more than 10 editorial boards of scientific journals. He is the founding member of several international cancer epidemiology consortia and networks.
Major Research Interests:

Molecular and genetic epidemiology

Cancer Epidemiology

Cardiovascular and diabetes epidemiology

Cancer prevention

Epidemiologic methods
H-Index:
Scopus: 113 (as of 04/05/2018)